Angel has brought my heroes welfare~ The Gold Lottery, Win massive Gold, You can also choose Auto or Anonymous when play it.
Activity One: Gold Lottery

Activity Time :
00:00.Oct.04—23:50.Oct
.05
(EST)
Activity Range :
S1-S106
Activity Content:
During the event, Heroes have a free chance to join Gold Lottery each day. Besides, you can spend gold to play, 100% probability to win.
Eg: Heroes spend 200 gold to play, you will win at least 200 gold and at most 800 gold.
(For highest 300% Rebate)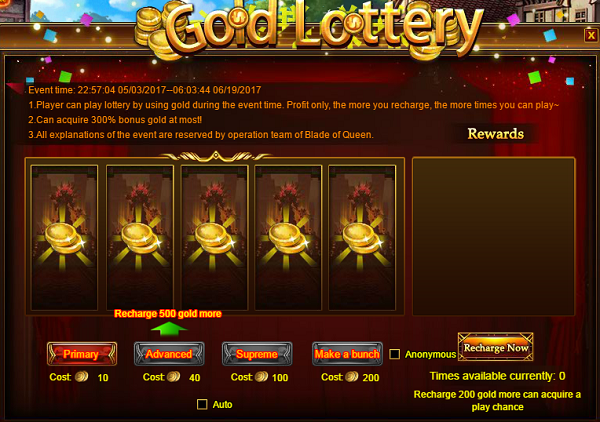 Auto: You will collect all of your rewards once.
Anonymous: No one will see your rewards information.
Activity Two: Explore Mysterious Maze! Rescue Might Pet!
Activity Time: 00:00.Oct.04—23:50.Oct.05 (EST)
Activity Range: S1-S106
Activity Content:
During the event, click the Maze of Abyss

to enter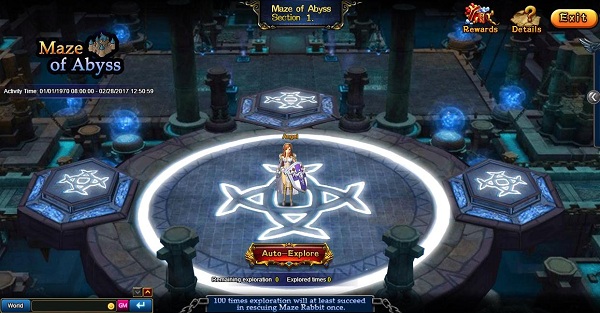 There are all 5 Sections of Maze, each section provides different rewards, the high section is, the better rewards will be. There are three portals of each section, you click one of them to start exploring.
Only one portal is the right access to next section, successful exploration will randomly get one of the section rewards and enter next section. If the exploration doesn't succeed, you will return to the First Section. Exploration of each section will consume 1 chance.
There are three Maze Bunnies in section 5, only one is real, success in rescuing true Maze Bunny will get Ultra Reward: Gift of Maze Bunny.
*Gift of Maze Bunny: Open to randomly claim one of rewards from Pet: Maze Rabbit (Permanent), Stage 7 Strength Potion, Stage 7 Volition Potion.
There will be 5 free exploration chances for players each day, consuming 100 Gold will get another 1 chance. 100 times exploration will at least succeed in rescuing Maze Bunny once.
Note:1. If you didn't succeed get the right portal in First Section, you will get Exploration Award. The further section won't provide this reward.
2. Same pet transform card can only get one pet,If heroes repeatedly acquire Maze Rabbit Baby Transform Card, you can decompose the spare Transform Card for Pet Shard.
>>> Introduction of【Pet Transform Card decomposition】
【Maze Rabbit Baby】
Lv4: HP+40000, Special Attack+2000, Roar+7 Recover+8
Feature: Special Attack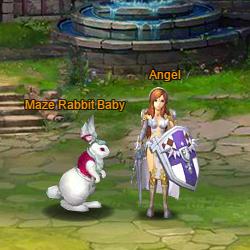 Maze Rabbit Baby is a special mighty pet that owns
Special Attack Feature
. Put it into Special Attack Totem, it not only will give Special Attack Stats Bonus, but also will double the stats bonus.
Eg: Special Attack Totem without Maze Rabbit Baby(Dodge+2000)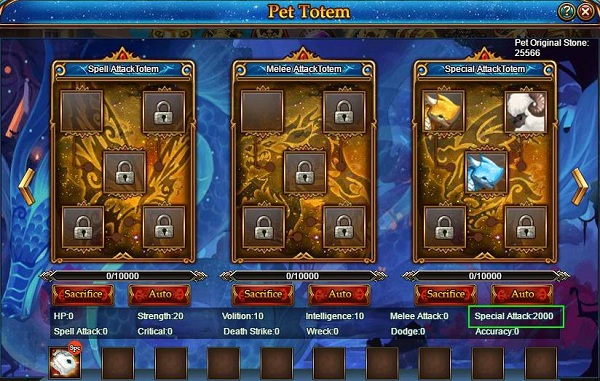 Special Attack Totem with Maze Rabbit Baby(Dodge+4000)Doubled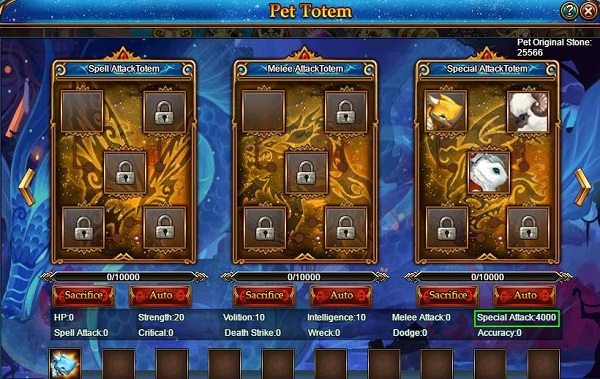 For further details, please click http://bbs.carolgames.com/viewtopic.php?f=28&t=2877
Blade of Queen Operation Team
2017.10.03